There's a handy Safe Mode for all Office 365 offline apps (and probably for older version of Office as well) that you can use to start any Office app without any add-ins and many other things (like themes, animations, etc.) turned off or disabled. Very handy for diagnosing possible problems with some Office app.
To enable it, simply hold Ctrl key when launching any of Office app. When you see app's button in the taskbar, release the Ctrl key, click that button and answer Yes in the dialog window that appears: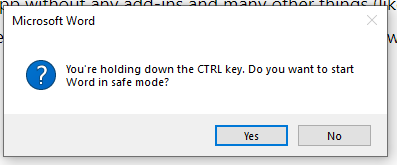 That would be pretty much all.