Up until now I was using fabulous ScreenToGif to quickly capture animated screenshots for bug reporting. It truly is — as its homepage says — free, compact and powerful. It comes with handy installer, but also with portable version. And capturing is ultra-easy with it.
Today I discovered LICECap and immediately felt in love again…
ScreenToGif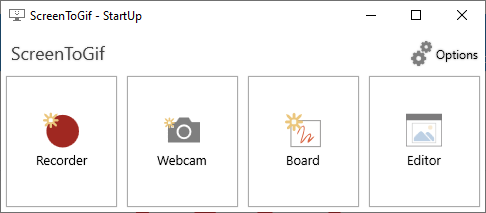 It allows you to:
Capture a screen region, active window or whole screen
Record yourself from the webcam or making a drawing on a virtual whiteboard. With or without sound
Configure recording process using a dozens of configuration switches and parameters
Run playback, review your recording, edit it, add image or transition effects
Save recording in many, many formats (including video) and watch recording stats
And believe me or not, you can do many more things. And that's the biggest problem about ScreenToGif.
Because the above makes it much more like a free, yet powerful video grabber and editor. With all these switches, parameters and clicks necessary to start your recording and then save it might be overwhelming for many and in many scenarios.
And for ultra-fast screen grabbing for bug reporting it is simply too big.
LICEcap
https://www.cockos.com/licecap/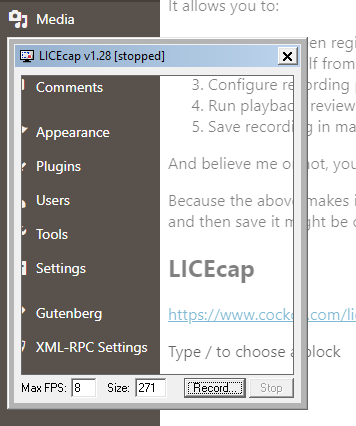 This piece of software doesn't have even 10% of what ScreenToGif offers. It:
Records region only
Saves images to GIF format only
Has FPS and capture size as the only option
This causes that animated screen capturing process becomes moron-level easy:
Run program
Select capture region
Hit the Record… button
Pick destination .gif file
Wait two seconds
Record animation
Hit the Stop button
And you're done. Screen is capture to selected .gif file, ready to be uploaded or attached somewhere.