I had to pick a handheld-hoover for my oldies. Due to their age, the actual weight of the device was an absolute priority. I decided to get Blaupunkt VCH601 — which seems to be unbeatable in this category (only 2.2 kilograms) — even though it turned out that it surprised me in some other areas.
If you think that a handheld-hoover description is far from IT and shouldn't be published here then you may be wrong. Even IT geeks must clean up their rooms from time to time, sorry! :>
The hoover is generally OK, especially given its price, but has a certain downsides. Before I start going through them let's just at least take a look at it: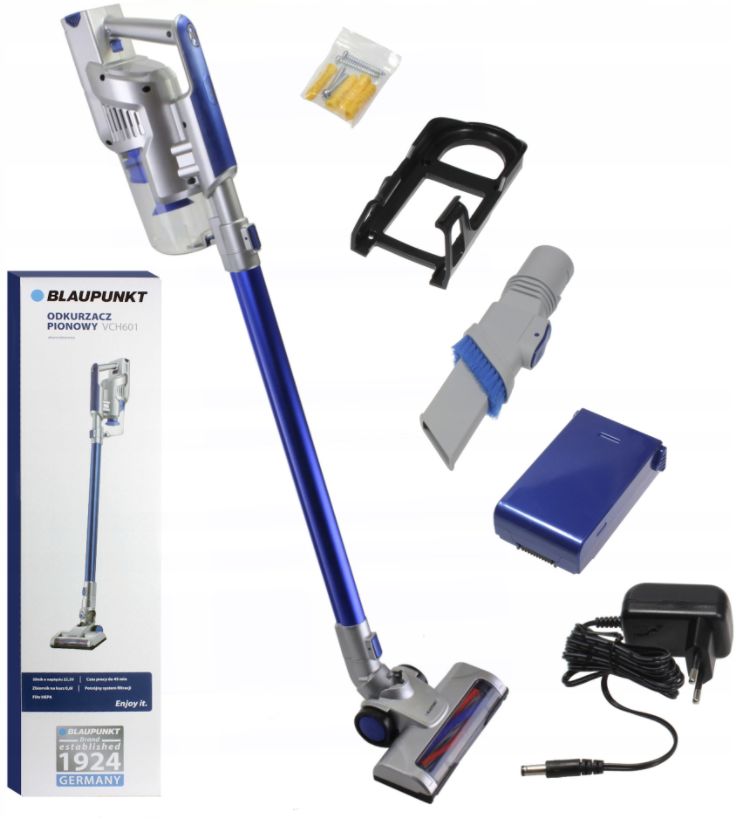 A big surprise for me was the poor quality of the manual (guess for yourself how to mount the wall mount and how to place the vacuum cleaner in it).
The second downside is the poor charging option. In most vacuum cleaners of this type, the charger is integrated into the wall mount and you simply hang the hoover to start charging it. Here you connect the cable independently, just like when charging an ordinary telephone.
Also, battery performance and run times are poor, as it's only 25 minutes (turbo mode) / 45 minutes (eco mode) per each up to 6 hours of charging. This is my first vacuum cleaner of this type, so maybe I expect the impossible, but nevertheless I expected either longer work or shorter charging times. The wall-mounted vacuum cleaner, which I had the opportunity to use once, more than a year ago, also offered only 45 minutes of operation, but the full charging time did not exceed three hours. And often only two and a half hour was needed. Here it is more than twice as long.
One of the pluses, the removable battery. When it will become dead of the constant charging/discharging cycles all you need is to replace it instead of purchasing a new vacuum-cleaner.
And, already mentioned, weight. You can really feel in your hands that it has only 2.2 kg. So, this vacuum cleaner is perfect for the elderly, sick or having problems with holding heavier objects in their hands.
And of course the price. You can get it for approx. 100 GBP to up to 125 GBP (including shipping).
If this will be your first handheld-hoover ever purchased and used then don't be surprised with its sound and vacuuming power. Both are surprisingly low. There's a clearly noteicable distinction between cord-powered hoover (and a comparable engine power) vs. battery-powered one. Thus, don't expect this kind of solution to be your only hoover. This is certainly an additional option, for a quick hoovering of a small areas when bringing up and using cord-powered main hoover isn't plausible.
To be honest, I would prefer a much more efficient device, even for a much higher price. I chose the Blaupunkt VCH601 due to its unbeatable weight. From what I have looked at the Internet, handheld vacuum cleaners weighing less than 3 kg are rather rare.