I had some serious troubles converting Webex's video session, saved to .wrf file, to some other video format (namely, .mp4). I have ended up using Webex WRF2WMV Converter, but only after contacting Webex support (mostly due to a lot of incorrect information on their website).
To avoid others wasting the time the same way, here is a short memo on this topic.
When it comes into converting .wrf file to some other video format, the Webex WRF2WMV Converter is the fastest option, because:
it works, even if you don't have or can't use Webex credentials; you can download it directly from Webex support website (all other software mentioned below requires login),
it works, if you have .wrf files recorded by the newest version of Webex, which Webex Recording Editor (see below) fails to convert to .wmv files.
Unfortunately, it works only under Windows and only for video files (.wrf). For Mac see below.
Converting .wrf to .wmv is actually a full-scale video encoding process, which means that it is quite slow. On modern computers you may expect achieving speeds of up to 1.3-1.5 MB per minute (an example 40 MB video session took 31 minutes to convert):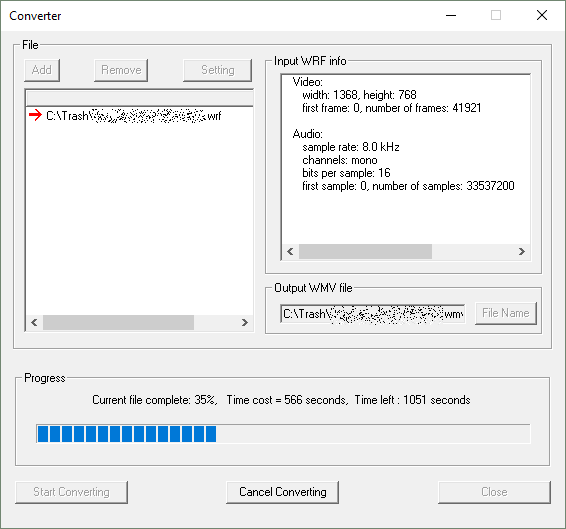 On the other hand, it is quite surprising, what compression level Webex recordings offers. Having 1+ hour audio+wideo recording in 1366×768 resolution stored in 40 MB .wrf only is some kind of achievement.
Here is the list of other software that you may consider, for converting, recording or just playing Webex recorded sessions, in case you can't or don'w want to use Webex WRF2WMV Converter:
Players are for playing .arf and .wrf files only. That's kind of obvious, right?
Webex Recorder+Player for video (.wrf) files is for both playing and recording Webex sessions, but works for video files only and under Windows only. If you want to record your Webex session under Mac, on-line experience is the only option, sorry,
Webex Recording Editor, also only under Windows, allows you to convert .wrf files to .wmv and to perform some editing operations. More details here.
All software mentioned here requires you to login to Webex, bacause downloads are generally not public. You can get these files at Webex's page designated to your company, i.e.: https://YOUR-COMPANY.webex.com/mc3300/meetingcenter/support/recordplay.do?siteurl=YOUR-COMPANY
The .wmv is the only format supported by Webex. You have to use another conversion software or on-line service in order to convert .wmv files to some other formats, i.e. .mp4 or .avi.